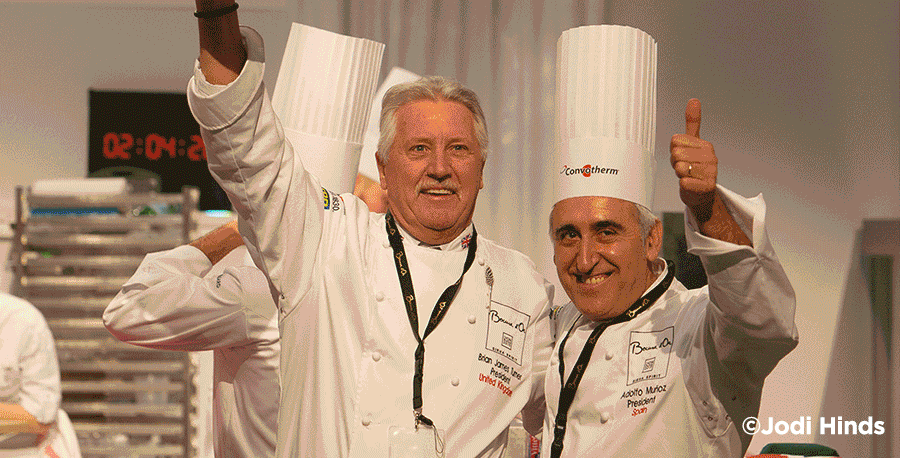 Latest News:
Springboard's FutureChef crowns 2019 winner
recipes
Shopping List
Serves 4
350g/12oz puff pastry
little plain white flour, for dusting
30g/1oz butter
1 tbsp rapeseed oil, plus extra for oiling
1 tbsp sherry vinegar
1 tbsp light brown sugar
1 garlic clove, crushed
1 tsp cumin seeds
4 baby beetroot, halved through the root
salt and freshly ground black pepper
4 sweet pointed peppers, halved and deseeded
4 carrots
4 small onions
For the dressing
1 shallot, finely chopped
4 breakfast radishes, finely chopped
1 tsp wholegrain mustard
1 tbsp cider vinegar
4 tbsp rapeseed oil
2 tbsp fresh parsley, chopped
How to Create the Dish
Preheat the oven to 180C/350F/Gas 4. Roll out the puff pastry on a lightly floured surface and cut it to the size of the base of an ovenproof frying pan, then set the pastry aside in the fridge.
Heat the butter and oil in the pan. Add the vinegar, sugar, garlic and cumin. Add the beetroot, stir well, then season with salt and pepper.
Put a lid on the pan and transfer to the oven. Cook for 30 minutes, then leave to cool for five minutes.Turn the oven up to 200C/400F/Gas 6.
Lightly oil the peppers, put them on a baking tray and roast for 15 minutes.
Meanwhile, boil the carrots and onions in salted water for 8-10 minutes, until just softening, then cool.
Cut the carrots in half lengthways and the onions in half through the root. Arrange with the beetroot and peppers in the pan, cut-side up. Lay the puff pastry on top of the vegetables and tuck into the sides of the pan.
Bake for a further 15-20 minutes, or until the pastry is cooked.
To make the dressing, mix all the ingredients together.
Allow the tart to sit for five minutes after cooking. Carefully turn the tart out of the pan onto a serving dish, so the pastry is on the bottom. Pour the dressing over and serve.