Shopping List
Serves 4
500g/1lb2oz ready-made puff pastry
Tomato sauce
2tbsp olive oil
1 shallot, finely chopped
1 clove garlic, crushed
1 x 400g/14oz tinned chopped tomatoes
1 pinch caster sugar
1tbsp chopped parsley
sea salt and freshly ground black pepper
Pickled beetroot
4 medium cooked beetroot, skinned and sliced into 3mm/1/8 " rounds
275ml/½ pt raspberry vinegar
1tsp salt
1tsp sugar
6-8 shallots, peeled
1tbsp olive oil
1 egg, beaten
Pesto
50g/2oz whole roasted almonds
1 bunch picked basil leaves
50g/2oz grated parmesan cheese
2tbsp rapeseed oil
1 clove garlic
1 bunch fresh mint
1tbsp chopped parsley
sea salt and freshly ground black pepper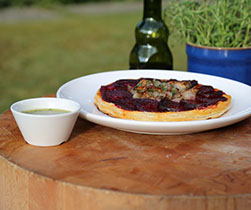 How to Create the Dish
1. Preheat the oven to 200C/400F/gas mark 6.
2. Heat a sauté pan until hot, add the olive oil, shallot and garlic and sweat for a couple of minutes without colouring.
3. Add the tomatoes and sugar and cook until reduced by half then add the chopped parsley, season and put to one side to cool.
4. Meanwhile, place the beetroot into a bowl. Heat the raspberry vinegar, salt and sugar in a saucepan until boiling then pour over beetroots.
5. Bring a pan of salted water to the boil, add the shallots and boil for 3 minutes then drain and leave until cool enough to handle. Cut in half and char the cut sides in a hot dry pan.
6. When lightly charred, separate the petals and mix with a little olive oil and season.
7. Cut the rolled out pastry into 20cm/8" circle then fold over the edges to make a raised rim and egg wash.
8. Spoon the tomato sauce over the centre of the tart, then drain the beetroot and carefully overlapping them, lay them on the tart in a circle.