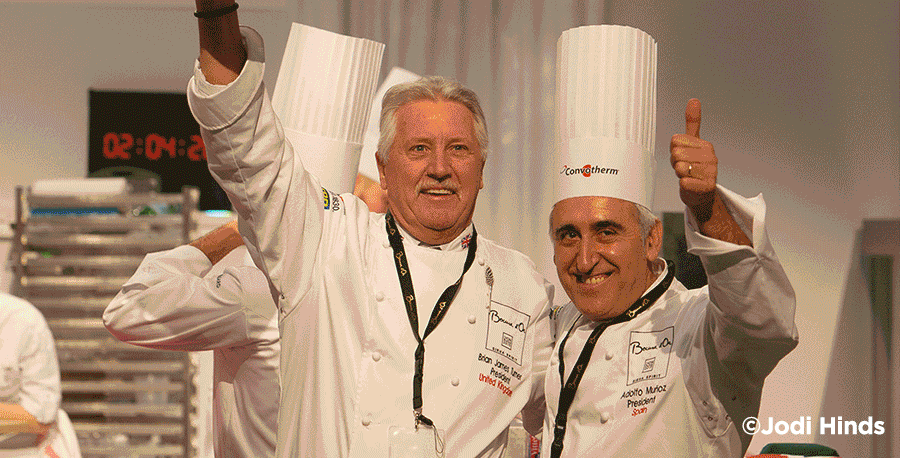 Latest News:
Springboard's FutureChef crowns 2019 winner
recipes
Shopping List
Serves 4
For the mackerel
140ml/4½fl oz white wine vinegar
140ml/4½fl oz dry white wine
1 piece lemon rind
1 star anise
1 tbsp sea salt
6 peppercorns
2 good-sized mackerel, filleted and pin-boned
1 tbsp oil
30g/1oz butter
For the rhubarb
55g/2oz butter
450g/1lb rhubarb, half roughly chopped and half cut into 2.5cm/1in batons
110g/4oz caster sugar
2.5cm/1in root ginger, peeled and crushed
splash of grenadine
For the sauce
½ lemon, juice only
1 tsp chopped fresh parsley
1 tsp fennel seeds
How to Create the Dish
For the mackerel, put the vinegar, wine, lemon rind, star anise, salt and peppercorns in a pan and bring to the boil. Pour into a tray and lay the mackerel fillets in the liquid skin-side up. Leave to cool.
For the rhubarb, melt the butter with the sugar in a clean pan. Add the ginger and roughly chopped rhubarb. Cook gently until it becomes a purée, then break it up using a wooden spoon. Add the grenadine and rhubarb batons. Cook gently, keeping the batons whole.
Meanwhile, take the mackerel fillets out of the liquid and carefully dry. Heat the oil in a frying pan, add the mackerel, skin-side up, and cook for approximately five minutes. Meanwhile, add 30g/1oz butter and continually baste the mackerel with this.
In a clean pan make the sauce. Heat the butter until it starts to turn golden-brown. Remove from the heat and add the lemon juice, parsley and fennel seeds.
To serve, lay the rhubarb in the middle of serving plates. Carefully lay the mackerel on top. Spoon the sauce over and serve.