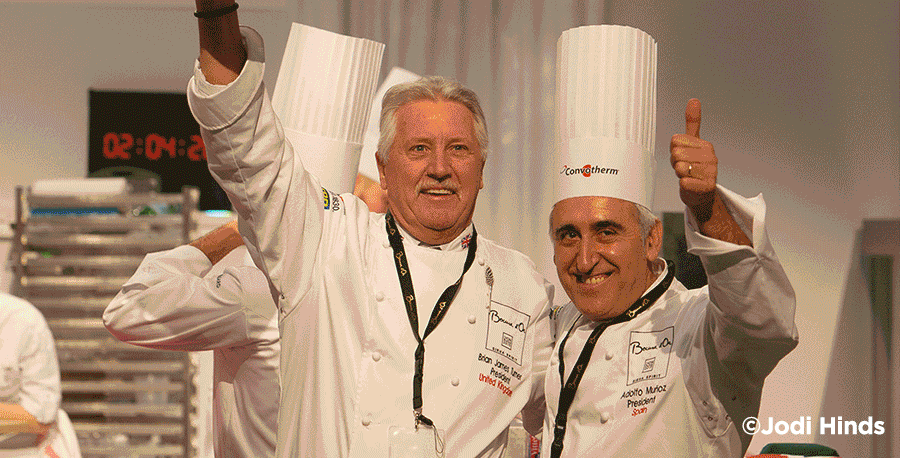 Latest News:
Springboard's FutureChef crowns 2019 winner
Shopping List
Serves 4
Stew
2tbsp rapeseed oil
550g/1lb 4oz neck end fillets of lamb, trimmed and cut into chunks
2 large onions, roughly chopped
2 carrots, roughly chopped
2 sticks celery, roughly chopped
2 cloves garlic, crushed
6 tomatoes, halved and seeds removed but reserved
25g/1oz plain flour
175ml/6floz red wine
570ml/1pt chicken stock
1 bay leaf
1 sprig fresh thyme
sea salt & freshly ground black pepper
1 splash Worcestershire sauce
24 small round shallots, peeled
175g/6oz green beans
Dumplings
100g/4oz self-raising flour
100g/4oz fresh white breadcrumbs
100g/4oz shredded suet
1 tbsp chopped chives
Pinch cayenne pepper
50g/2oz grated Caerphilly cheese
sea salt and freshly ground black pepper
2 eggs, beaten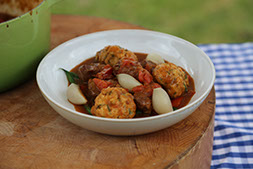 How to Create the Dish
1. Heat the rapeseed oil in a large casserole dish or saucepan. Add the lamb and brown on all sides, then add the chopped onions, carrots, celery, crushed garlic and the seeds from the tomatoes, keep the flesh for later.
2. Add the flour and stir well, then add the red wine and stock and bring to the boil.
3. Add the thyme and bay leaf and simmer for 1½ hours until the meat is tender but not falling apart.
4. Take off the heat and using a slotted spoon take out the meat and put into a clean pan
5. Take out the bay leaf and thyme and discard.
6. Using a processor, puree the rest of the sauce and pour into a clean pan on top of the meat
7. Roughly chop the reserved tomato flesh and add to the pan along with the and the Worcestershire sauce and bring back up to the boil.
8. Meanwhile mix the flour, breadcrumbs, suet, chives, cayenne and grated cheese together in a bowl. Season with a little salt and black pepper then slowly add the beaten eggs to make a soft dough. Roll into small balls, you might need to add a little iced water if it's not quite soft enough to come together, but you don't want it soggy.