Shopping List
Serves 4
2 best ends of lamb, chilled and trimmed for roasting
sea salt and freshly ground black pepper
1 tsp dried mixed herbs
2 tbsp rapeseed oil
110g/4 oz butter
50g/2 oz shallots, chopped and cooked in a little white wine
50g/2 oz parsley, basil, chives and rosemary, roughly chopped
225g/8 oz fresh white breadcrumbs
1 tbsp Dijon mustard
500g/1lb 2oz potatoes, peeled, grated and squeezed dry
200ml/7floz beef stock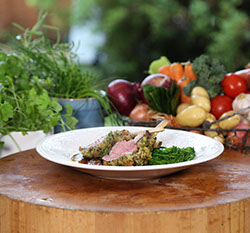 How to Create the Dish
Preheat the oven to 200C/400F/gas mark 6.
Season the racks of lamb with salt, pepper and the dried mixed herbs.
Heat an oven-proof frying pan until hot, add half the rapeseed oil and lamb rack, fat side down and fry for 1-2 minutes until golden brown then place in the oven for 4-5 minutes.
Turn the lamb on to the bones and return to the oven for a further 4-5 minutes, or until pink.
Meanwhile, melt the butter and add the shallots, herbs and breadcrumbs and mix well to a soft paste.
Remove the lamb from the oven and and leave to rest for 5 minutes in a warm place.
While the lamb rests, make the rosti. Heat a frying pan until hot, add the rest of the rapeseed oil and the grated potato, season well then fry, pressing down gently so the potato sticks together. Cook until golden brown on both sides and tender all the way through – about 5-8 minutes.
Brush the back of the lamb with Dijon mustard. Spread the coating as thinly as possible over the lamb, pressing firmly to make it stick.
Glaze under a hot grill or back in the oven, until the coating is evenly browned, then carve into cutlets and serve.
To make a gravy, skim the excess fat from the pan juices, add the beef stock and bring to the boil. Reduce to half its volume. Pour through a fine sieve and serve with the lamb and rosti.