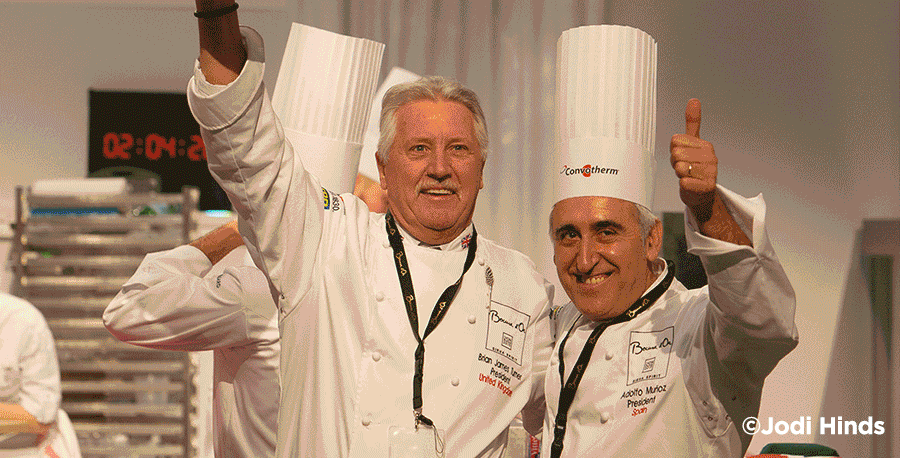 Latest News:
Springboard's FutureChef crowns 2019 winner
recipes
Shopping List
Serves 4
For the steaks
55g/2oz duck fat
3 tbsp chopped thyme
3 tbsp chopped rosemary
3 tbsp chopped oregano
2 x 570g/1lb 4oz rib eye steaks
For the butter
225g/8 z unsalted butter, softened
2 tbsp wholegrain mustard
1 garlic clove, crushed
1 tbsp chopped parsley
1 tbsp chopped capers
For the wedges
3 Maris Piper potatoes
110g/4oz duck fat
sea salt and freshly ground black pepper
How to Create the Dish
For the steaks, melt the duck fat gently over a low heat. Once melted, remove from the heat and add the thyme, rosemary and oregano. Pour the duck fat mixture over the steaks and leave to marinate for 10 minutes.
Get the barbecue ready to cook or heat a large, heavy griddle pan over a medium-high heat. Cook the steaks to your liking and season with salt and pepper, then leave to rest in a warm place.
For the butter, mix the softened butter with the mustard, garlic, parsley and capers and place in the fridge to set.
For the wedges, wash the potatoes in their skins and then boil in salted water until only just cooked. Drain and allow to cool.
Meanwhile, melt the duck fat in a saucepan over a low heat. Cut the potatoes into wedges, then dip in the duck fat.
Grill the potatoes on the barbeque or griddle pan, brushing with duck fat as needed.
To serve, slice the meat, re-heating if necessary. Melt the butter and pour over the steak. Serve with the potatoes and a green salad.