Shopping List
Serves 4
1tbsp rapeseed oil
1 onion, finely diced
1 carrot, finely diced
1 leek, finely diced
450g/1lb minced stewing beef
4 tomatoes, seeds removed and finely diced
1 clove garlic, crushed
1tbsp Dijon mustard
Splash Worcestershire sauce
275ml/½ pt chicken stock
450g/1lb cooked potatoes
75g/3oz butter
splash of milk
sea salt and freshly ground black pepper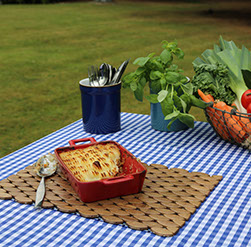 How to Create the Dish
1. Preheat the oven to 180C/350F/gas mark 4.
2. Heat the rapeseed oil gently in a sauté pan, then add the onion, carrot and leek and sweat gently for 5 minutes without colouring.
3. Add the minced meat and turn the heat up, then fry until well browned.
4. Add the chopped tomatoes and garlic and cook for 2 minutes then stir in the mustard and Worcestershire sauce. Add the stock, bring up to the boil and simmer gently for about 30 minutes until the liquor has almost all evaporated.
5. Season then put into a clean ovenproof dish and allow to cool while you make the mash.
6. Drain the potatoes well then pass through a potato ricer into a clean pan, add 50g/2oz of the butter, salt and pepper and enough milk to get a smooth pipeable consistency.
7. Put into a piping bag with a star tube and pipe on top of the meat in swirls or lines, whatever takes your fancy then bake in the oven for 10 minutes.
8. Melt the remaining butter in a pan, then brush over the pie and return to the oven for 30 minutes until coloured and cooked through.