Shopping List
Serves 4
2 little gem lettuce
1tbsp rapeseed oil
4 x 225g/8oz wings of skate, trimmed
1 sliced onion
1 bay leaf
175ml/6floz dry white wine
6 peppercorns
sea salt and freshly ground black pepper
110g/4oz butter
110g/4oz smoked salmon, chopped
110g/4oz brown shrimps
1 lemon
Juice of ½ lemon
2tbsp chopped parsley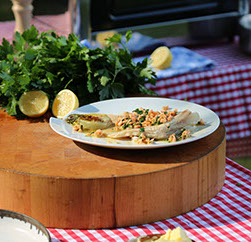 How to Create the Dish
1. Preheat the oven to 180C/350F/gas mark 4.
2. Cut the lettuce into quarters through the root, place onto a roasting tray, sprinkle with the rapeseed oil, then season and roast in the oven for 20 minutes.
3. Meanwhile, place the skate into a large frying pan, add the onion, bay leaf, white wine and peppercorns and enough water to just cover.
4. Add a pinch of salt, cover and set over a medium heat to poach for about 15 minutes then lift out and drain onto kitchen paper.
5. Place a piece of skate onto a plate with a couple of wedges of lettuce.
6. Heat the butter in a frying pan and cook until just starting to colour.
7. Remove from the heat then add the smoked salmon and shrimps, lemon juice and parsley and pour straight over the fish. Serve immediately.