Shopping List
Serves 6
1.35kg/3lb neck end chops of mutton (12 or 18 pieces)
900g/2lb potatoes
450g/1lb large onions
1.2l/2pts white chicken stock
12 even sized new potatoes
12 button onions
2tbsp chopped parsley
2 tbsp chopped celery leaves
1 bouquet garni – celery, flat leaf parsley, thyme and bay leaf tied together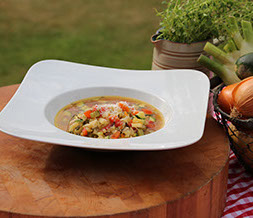 How to Create the Dish
1. Put the chops into a large pot and cover with water.
2. Bring up to the boil then take off and put under cold running water
3. Wash and peel the potatoes then slice thinly and place into a large clean saucepan or casserole dish.
4. Lay the chops on top then shred the large onions and sprinkle over the chops.
5. Cover with chicken stock, add the bouquet garni and bring up to the boil then immediately turn down to a gentle simmer, cover with a lid and simmer for about 1.5 hours.
6. Meanwhile, bring a saucepan of salted water to the boil, add the new potatoes and simmer for 10-12 minutes until just tender. Do the same with the button onions .
7. Carefully lift the chops out of the pan and set aside. Mash the potatoes and onions that are in the pan until fairly broken down, then return the chops to the pan with the cooked new potatoes and button onions.
8. Check the seasoning then add the chopped parsley and celery leaves and stir through.
9. Serve straightaway.