Shopping List
Serves 4-6
1tbsp oil
1 onion, roughly chopped
1 carrot, roughly chopped
1 stick celery, roughly chopped
1 leek, roughly chopped
2 garlic cloves, roughly chopped
4 tomatoes, roughly chopped
1 small bunch of thyme
570ml/1pt chicken stock
2tbsp soy sauce
2tbsp Worcestershire sauce
150ml/¼ pt red wine
2tbsp clear honey
900g/2lb pork belly, skin off and some fat trimmed but not removed
sea salt and freshly ground pepper
75g/3oz plain flour
2 eggs, beaten
225g/8oz soft white breadcrumbs
110g/4oz butter
3 tbsp rapeseed oil
1 medium cabbage, shredded
2 tbsp double cream
Nutmeg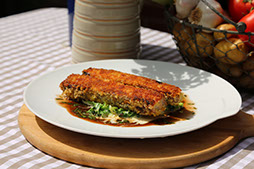 How to Create the Dish
1. Preheat the oven to 150C/300F/gas mark 2.
2. Heat a frying pan until hot, add the oil and onion, carrot, celery and leek and fry until just starting to colour. Add the garlic, tomatoes and thyme and fry for another couple of minutes.
3. Meanwhile, pour the stock, soy, Worcestershire sauce, red wine and honey into a saucepan and bring up to the boil.
4. Put half the sautéed vegetables into a deep sided roasting tray and add the rest to the pan of stock. Place the pork on top of the vegetables then pour the stock vegetable mixture over the top.
5. Transfer to the oven and roast for about 2 ½ – 3 hours until really tender.
6. Remove and turn the oven up to 200C/400F/gas mark 6 and put the pork in a clean tray with 1 tbsp of the rapeseed oil. Return to the oven and roast for 10 minutes until the top of the pork is coloured. Take out and lightly press, to keep shape, between 2 trays until cool.
7. Slice the cold pork into strips. Put the flour, beaten eggs and flour into separate bowls. Dip the pork into the flour and then the egg making sure that it is totally coated, then dip into the breadcrumb mix and coat well.
8. Put them onto a clean plate and tap gently to make sure the crumbs are sticking.
9. Heat a frying pan until hot, add the last of the rapeseed oil and a third of the butter and fry on each side until hot through and light golden brown.
10. Meanwhile, heat a sauté pan until hot, add half the remaining butter, the shredded cabbage and a splash of water and sauté until the cabbage has wilted, then add the cream and season with nutmeg and salt and black pepper. Cook until the cabbage is just tender and coated int the cream.
11. Strain the cooking liquor for the pork, reboil, whisk in the last of the butter, season and add chopped parsley and serve with the pork and cabbage.