Shopping List
Serves 4
2 tablespoons rapeseed oil
2 x 325g/12oz pork tenderloin fillet
225g/8oz grated Cox's apple, plus 2 Cox's apples
sea salt and freshly ground black pepper
150ml/¼ pt cider vinegar
2-3 tablespoons honey
1 small chilli, shredded
1tablespoon grated peeled ginger
1 shallot, finely chopped
1 clove garlic, crushed
325g/12oz ripe deseeded tomatoes, chopped
1tablespoon tomato puree
50g/2oz butter
1 squeeze lemon juice
2 tablespoons roughly chopped flat leaf parsley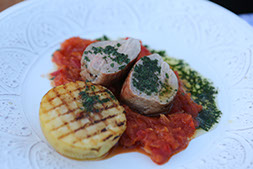 How to Create the Dish
• Preheat the oven to 200c/400F/gas mark 6.
• Heat an ovenproof frying pan until hot, add half the oil and season the pork on each side until just browned. Cut the 2 apples in half then add to the pan to colour on each side. Season the pork with salt and black pepper then place the pork and apples into the oven to roast for 10-13 minutes until just cooked.
• Meanwhile, put the vinegar in pan with the honey, chilli, ginger, shallot, garlic and a pinch of salt. Bring to the boil, then reduce the heat and simmer until the mixture starts to thicken.
• Add the chopped tomatoes, tomato puree and grated apple and bring to the boil. Reduce the heat to a gentle heat and simmer for 10-15 minutes or until thickened then season to taste.
• Heat a frying pan until hot, add the butter and cook until just turning nut brown, then add the lemon juice and parsley and stir to combine. Season to taste.
• Carve the pork into slices, then serve with the halved roasted apples and a dollop of chutney. Spoon the beurre noisette around the edge.