Shopping List
Serves 4
1kg/2pts cleaned mussels
2 shallots, finely chopped
300ml/11floz white wine
500ml/18floz chicken stock
1 splash Tabasco
½ lemon, juiced
225g/8oz butter
2 tablespoons rapeseed oil
12 spring onions, sliced diagonally
400g/14oz risotto rice
sea salt and freshly ground black pepper
50g/2oz freshly grated parmesan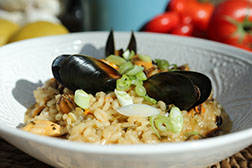 How to Create the Dish
• Heat a large pan until hot, add the mussels, 1 of the shallots and half the wine. Cover and cook until all the mussels have opened, then drain, reserving the cooking liquor.
• Strain the reserved liquor through a fine sieve into a saucepan and ad the chicken stock and bring to a simmer over a medium heat.
• Take half the picked mussels and roughly chop them and place into a bowl. Add the Tabasco sauce and lemon juice and put to one side.
• Meanwhile, heat a sauté pan until hot, add 25g/1oz of the butter and the rapeseed oil. When the butter has melted, add the remaining shallot and the spring onions and sweat for a couple of minutes to soften but not colour.
• Add the rice and stir really well to coat in the onions, then cook for about 2 minutes.
• Increase the heat, then add the last of the wine and cook until reduced to nothing, stirring all the time.
• Add the hot stock, a ladle at a time, allowing each to be evaporated before adding more, stirring frequently until all the liquid has been used the rice is tender.
• When cooked, add the chopped mussels and stir well, then add the whole mussels and remaining butter. Cook until hot through then stir in the parmesan and season to taste, adding more lemon juice and Tabasco if needed. Serve straightaway.