Shopping List
Serves 4
450g/1lb fresh peas, podded
Splash of chicken stock
6 lettuce leaves
8 spring onions
Pinch sugar
100g/4oz mange tout peas
100g/4oz butter
25g/1oz flour
8 medium red gurnard fillets, pin boned and trimmed
2tbsp rapeseed oil
½ lemon, juiced
1 handful pea shoots
sea salt & freshly ground black pepper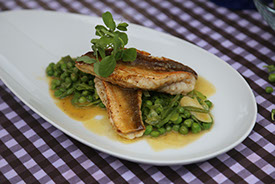 How to Create the Dish
1. Heat a sauté pan until hot, add the peas and chicken stock and bring to a simmer. Shred the lettuce and spring onions and add to the peas then add the sugar and a pinch of salt and simmer gently until just cooked – about 5-6 minutes.
2. When they are nearly cooked, shred the mange tout and add to the peas.
3. Then mix 25g/1oz of the butter with the flour and add a little at a time to thicken the pea mixture slightly, then check the seasoning.
4. Meanwhile, heat a frying pan until hot, add the rapeseed oil and gurnard fillets, skin side down and cook for 2 minutes then season and turn over. Cook for another 1 minute then remove.
5. Heat the last of the butter until foaming, then add the lemon juice.
6. Spoon the peas into the centre of the plate. Carefully lay the fish on top, skin side up and spoon the hot lemon butter over the top. Finish with the pea shoots and serve straight away.