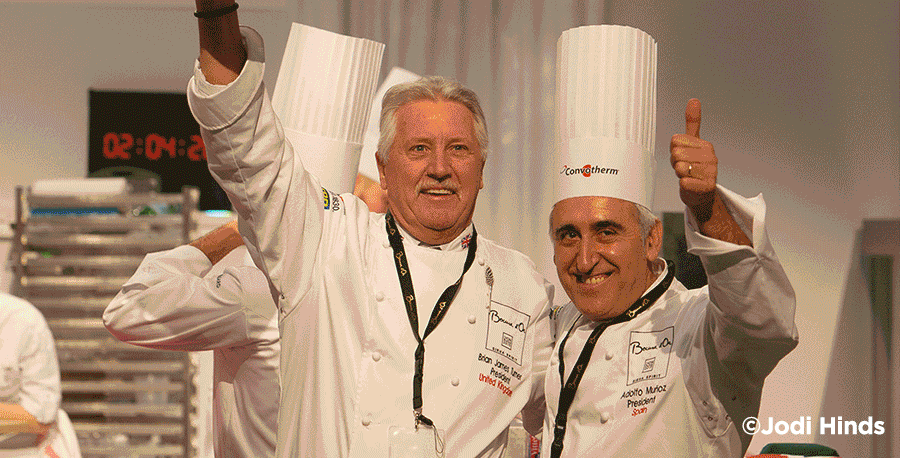 Latest News:
Springboard's FutureChef crowns 2019 winner
Shopping List
Serves 4
125g/4½ oz butter
2 tbsp rapeseed oil
2 large onions, finely sliced
1 finely chopped shallot
2 lamb's kidneys, trimmed and diced
4tbsp cider
275ml/½ pt chicken stock
2tbsp chopped parsley
4 slices of liver
4 x 2cm/¾" thick discs black pudding
Sea salt & freshly ground black pepper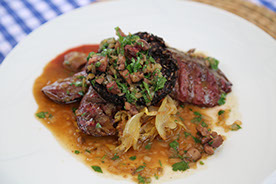 How to Create the Dish
1. Heat a sauté pan until medium hot, add 25g/1oz of the butter and 1 tbsp of the rapeseed oil, and when melted, add the onions and cook over a gentle heat for 15 minutes until soft but not browned.
2. Meanwhile, heat a frying pan until hot, add 25g/1oz of the butter and the shallot and cook until just softened. Remove and set aside in a bowl then add another 25g/1oz of butter to the pan.
3. When foaming, add the diced kidneys and fry until browned but not cooked all the way through. Remove and set aside with the shallots.
4. Add the cider and cook until just slightly reduced then add the chicken stock and simmer until reduced by half then beat in the last of the butter to thicken.
5. Return the cooked shallots, kidney and any resting juices to the pan and heat through then stir in the parsley and season with salt and black pepper.
6. Meanwhile, rub the slices of liver with the last of the rapeseed oil. Heat a griddle pan until very hot, add the liver and cook for 1 minute on each side until browned but pink inside still.
7. Cook the black pudding on the griddle at the same time.
8. Serve the liver with the onions, and kidney sauce spooned over.