Shopping List
Serves 4
2 medium butternut squash
3 tbsp rapeseed oil
1 bunch fresh thyme
2 lemons
1 medium onion, finely chopped
1 clove garlic, finely chopped
1 courgette, cut into 5mm/¼" dice
1 bay leaf
1 cob of maize, kernels sliced off
1 small can tomatoes
1 okra, cut into 5mm/¼" dice
2tbsp chopped parsley
110g/4oz cooked rice & beans
sea salt & pepper
16 leaves of kale, stalks removed
50g/2oz butter
Nutmeg
Pickled Green Bananas
4 green bananas in their skins
½ cucumber, grated
½ onion, grated
1tbsp chopped parsley
½ small hot chili, finely chopped
Juice of ½ lime
Salt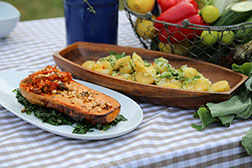 How to Create the Dish
1. Preheat the oven to 200c/400F/gas mark 6.
2. Cut the squash in half lengthwise, then scoop out the seeds and put to one side.
3. Put the squash in a roasting dish, sprinkle with 1 tbsp of the rapeseed oil, sea salt and pepper and ½ the fresh thyme and squeeze the lemon juice over then roast in the oven for 20 minutes.
4. Meanwhile, heat a sauté pan until hot, add half the remaining rapeseed, onion and garlic and sweat gently without any colour for a few minutes.
5. Heat a separate pan until hot, add the last of the rapeseed oil and courgette and fry until just coloured. Add to the onions then add the bay leaf, maize kernels, tomatoes and diced okra and bring to a simmer. Cook until thickening and all the vegetables are tender, then add parsley, cooked rice & beans and check the seasoning.
6. Scoop into the squash, put back in the oven and cook for a further 15 minutes or until cooked through.
7. Meanwhile, blanch the leaves in a pan of boiling salted water, then put into cold water, remove and drain. Heat a frying pan until just hot, add the butter and kale and cook gently until tender, then season with nutmeg.
8. Meanwhile, roast the cleaned seeds in the oven for about 10 minutes. Remove then roughly chop and mix with a little sea salt.
9. Scatter over the squash and serve.
Pickled Green Bananas
1. Boil the bananas in their skins for 15-20 minutes
2. Remove the skin and cut into 2.5cm/1" pieces then mix with the rest of the ingredients.
3. Leave to rest for 1-2 hours and serve