Shopping List
Serves 4
Dumplings
200g/7oz strong white flour
½ tsp salt
4g fast action dried yeast
200ml warm water
Ground nut oil to fry
Sauce
25g/1oz butter
1 shallot, finely chopped
1 cob of white maize, kernels removed
4 tomatoes, halved, deseeded and roughly chopped
1 green pepper, roughly chopped
4tbsp vegetable stock
4tbsp double cream
sea salt and freshly ground black pepper
Pepper sauce
50g/2oz butter
½ onion, finely chopped
1 clove garlic, crushed
2 red peppers, diced
90ml/3 ½ floz dry sherry
150ml/¼ pt vegetable stock
4tbsp double cream
1tbsp chopped parsley
Tabasco pepper sauce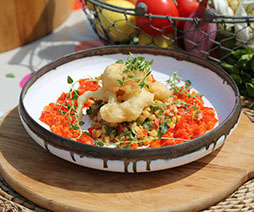 How to Create the Dish
1. Sieve the flour and salt into a bowl.
2. Mix the yeast and water together then add to the bowl and mix well until it forms a smooth dough. Cover the bowl with cling film, leave in a warm but not too hot place until mixture has doubled in size.
3. When batter is ready, heat the groundnut oil in a wok to about 180c
4. Drop a teaspoon of batter into oil and fry until it rises to the top of the oil and is evenly coloured. Remove and drain onto kitchen paper.
5. Meanwhile, heat a sauté pan until hot, melt the butter and add chopped shallots and sweat for a couple of minutes.
6. Add the kernels of white maize, the tomatoes and green pepper and sweat for another minute. Add the stock and cream and gently simmer until just tender and the liquor nicely reduced.
7. Finally, make the pepper sauce. Heat a sauté pan until hot, add the butter, onions, garlic and peppers and sweat for 5 minutes without colouring.