Shopping List
Serves 4
1 small onion, roughly chopped
1 bunch chives, roughly chopped
4 garlic cloves, roughly chopped
2tsp fresh thyme, leaves picked
1 hot chilli, roughly chopped
2 tsp sugar
3tsp salt
2tsp allspice
½ tsp nutmeg
½ tsp black pepper
2 tbsp rapeseed oil
4 x 175g/6oz boneless skinless salmon fillets
570ml/1pt cockles
Splash dry white wine
2tbsp double cream
150g/5oz butter
2 leeks, shredded
150ml/¼ pt chicken stock
2tbsp laver bread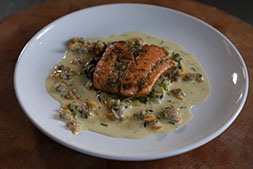 How to Create the Dish
1. Make the jerk dressing by placing the onions, chives, garlic, thyme and chilli into a small food processor or pestle and mortar and blitzing to a paste.
2. Add the sugar, salt, allspice, nutmeg and pepper and blitz once more with 1 tbsp of the rapeseed oil to form a paste.
3. Place the salmon onto a plate and cover with the paste on all sides then cover and place in the fridge to marinate for 2 hours.
4. Remove the fish from the fridge and allow to come to room temperature while you cook the cockles.
5. Heat a large sauté pan until hot, add the cockles and white wine and cover with a lid. Cook for 2-3 minutes until all the cockles have opened then strain the cockles through a fine sieve into a clean pan.
6. Place the pan of cooking juices onto a medium heat and cook until reduced by half, then whisk in the double cream and when it stars to thicken, add 100g/4oz of the butter, a little at a time, until the sauce has thickened.
7. Pickle the cockles from the shells then add to the pan of butter sauce. Set aside until ready to serve.
8. Heat a sauté pan until hot, add half the remaining butter and the leeks and sweat for a minute then add the chicken stock and bring to a simmer. Cook for 4-5 minutes until soft, then stir in the laver bread and heat through and check the seasoning.
9. Heat a frying pan until medium hot, add the last of the rapeseed oil and butter and fry the salmon gently on each side for 1-2 minutes until just cooked through.
10. Gently reheat the cockle butter sauce if needed then serve the leeks in the centre of the plate.
11. Pour a little cockle sauce over then top with the salmon and finish with some more cockle sauce.