Shopping List
Serves 4
Soup
1 ham hock
8 skinless chicken thighs
1.2l/2pts chicken stock
1.2l/2pts water
350g/12oz split peas
1 carrot, finely diced
1 small sweet potato, finely diced
1 sprig fresh thyme
2 garlic cloves, crushed
1 finely chopped onion
1 small hot chilli, crushed
sea salt & freshly ground pepper
Bread
225g/8oz ground chick pea or split pea flour
100g/4oz plain flour
1 ½ tsp baking powder
½ tsp salt
½ tsp cumin
½ tsp turmeric
1 clove garlic
1 small hot chilli
175ml/6floz warm water
2-3 tbsp rapeseed oil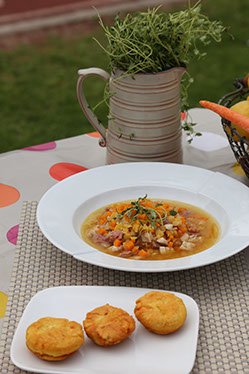 How to Create the Dish
1. Put ham hock and chicken into a large pot with the stock and water and bring to the boil. Turn the heat down and simmer for 30 minutes then lift the chicken thighs out and set aside.
2. Continue to cook the ham hock for another 1 hour until the ham is cooked through.
3. Remove the ham hock and set aside until cool enough to handle.
4. Meanwhile, add the split peas and cook for 20-30 minutes until half cooked.
5. Add the carrot and sweet potato and cook for 10 minutes before adding the thyme, garlic, onion and chilli to the stock and simmer until peas start to puree, about another 15 minutes.
6. When the ham and chicken are cool enough to handle, remove from the bones and roughly chop. Place some into serving bowls and the rest into the soup. Check the seasoning and serve with the bora bread
For The Bread
1. Mix the chick pea or split pea flour, plain flour, baking powder, salt, cumin and turmeric together in a bowl.
2. Crush the garlic and finely chop the chilli and add to the mixture.
3. Slowly add the water and mix thoroughly adding more water or flour as needed, to form a soft dough.
4. Cover and allow to rest for 30 minutes.
5. Cut into 12 pieces and shape into round balls then flatten with finger tips to 5-7.5cm/2-3" diameter and 1cm/½" thick.
6. Heat a frying pan until hot, add the rapeseed oil and fry for a couple of minutes until golden brown and cooked through. Drain onto kitchen paper and serve with the soup.