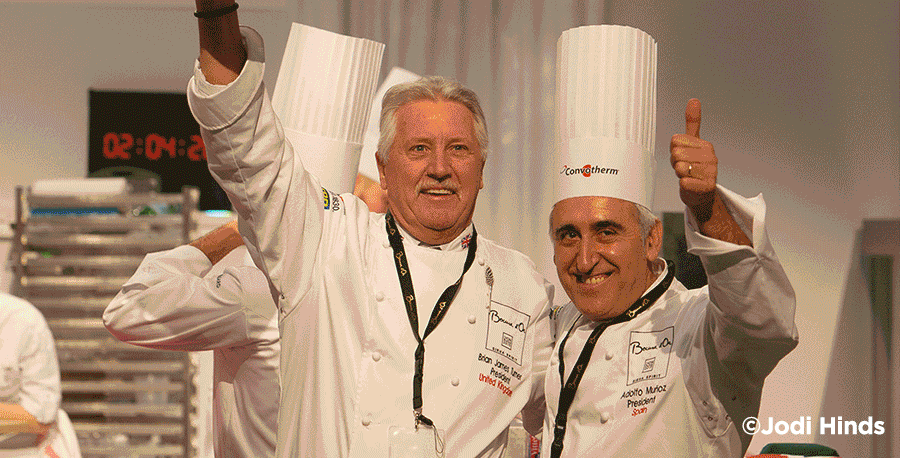 Latest News:
Springboard's FutureChef crowns 2019 winner
Shopping List
Serves 4
1tbsp rapeseed oil
12 pork sausages
4 slices bacon, cut into lardons
1 onion, finely chopped
1 clove garlic, crushed
1 x 400g/14oz tinned chopped tomatoes
175ml/6floz dry white wine
1 sprig fresh thyme
1 x 400g/14oz tinned chick peas, drained
1tbsp honey
4 tomatoes, deseeded & chopped
110g/4oz grated 'Wiltshire loaf' cheese
110g/4oz white breadcrumbs
1tbsp chopped flat leaf parsley
sea salt & freshly ground black pepper
400g/14oz mashed potato, to serve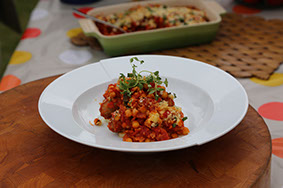 How to Create the Dish
1. Preheat the oven to 200C/400F/Gas 6.
2. Heat an ovenproof pan until hot, add the oil and fry the sausages until golden brown, then remove and set aside.
3. Add the bacon, and fry for a minute then add the onion and garlic and cook for a couple of minutes, without colouring until just softening.
4. Add the tinned tomatoes, white wine and thyme and bring to a simmer.
5. Return the sausages to the pan, then cover and simmer for 30 minutes, stirring regularly.
6. Remove the sprig of thyme, then add the chick peas, honey and fresh chopped tomatoes and stir well to combine, then check the seasoning.
7. Mix the grated cheese, breadcrumbs and parsley together than scatter over the top of the stew.
Place in the oven until golden and bubbling then serve with mashed potatoes.