Shopping List
Serves 4
8 slices white bread
50g/2oz soft butter
4 slices good boiled ham
4 slices Wiltshire loaf cheese
2 eggs
sea salt and freshly ground black pepper
12 slices smoked bacon, rind off
1tbsp oil
50g/2oz butter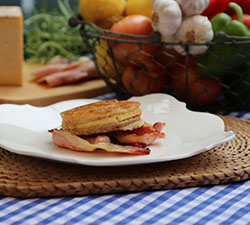 How to Create the Dish
1. Butter one side of each of the slices of bread, then lay 4 slices onto a board, butter side up and layer the cheese and ham on. Top with the remaining slices of buttered bread, butter side down, pressing well together to secure.
2. Cut out discs of the sandwich, using a large round cutter. Use the leftover bread to make breadcrumbs.
3. Heat a frying pan until hot, add the oil and smoked bacon and cook until golden and crispy. Remove and keep warm on a plate.
4. Whisk the eggs together and season with salt and black pepper.
5. Add the butter to frying pan with the oil. Dip the sandwiches into the beaten egg, then place into the frying pan and fry on each side for a couple of minutes until golden brown and hot through. Drain onto kitchen paper.
6. To serve - lay 3 slices of bacon on plate then top with the sandwich.