Shopping List
Serves 4
4 x 150g/5oz hake steaks, boneless and skinless
50g/2oz flour
1tsp sea salt
2 tbsp rapeseed oil
2 large onions, thinly sliced
425ml/¾ pt malt vinegar
275ml/½ pt water
4 bay leaves
175g/6oz sugar
1tsp turmeric
2tbsp curry powder
6 peppercorns
1 tbsp cornflour
Pickled Cucumber Salad
1 cucumber
½ tsp sea salt
½ tsp honey
4 tbsp cider vinegar
freshly ground black pepper
1 tbsp flat leaf parsley leaves, roughly chopped
1 little gem lettuce, leaves separated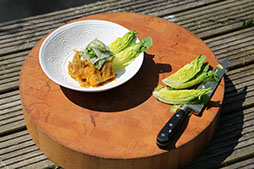 How to Create the Dish
1. Season the fish with sea salt and freshly ground black pepper then dust with the flour until just coated.
2. Heat a sauté pan until hot, add the rapeseed oil and cook the fish on each side until golden and just cooked through. Remove and set aside on a plate.
3. Add the onions to the pan the fish was cooked in and cook for a couple of minutes, then add the vinegar and water and bring to the boil.
4. Add the bay leaves, sugar, turmeric, curry powder and peppercorns and simmer for 5-10 minute until the onions are soft.
5. Mix the corn flour with a little cold water to form a thick paste, then add to the onions and cooking liquor and cook until it starts to thicken then remove from the heat.
6. Put some onions into the bottom of shallow dish then lay the fish on top and cover with the rest of the onions and cooking liquor.
7. Cool and put in fridge for 2 days to pickle.
For The Pickled Cucumber Salad
1. Peel the cucumber then cut in half horizontally.
2. Using a peeler cut the cucumber into lengthwise strips straight into a bowl.
3. Add the salt, honey and vinegar and carefully mix together then set aside for 20 minutes to pickle.
4. Drain, stir in the parsley and season with a little pepper. Toss with the little gem and serve with the fish.