Shopping List
Serves 4
175g/6oz softened butter
2 tbsp chopped parsley
1 clove garlic, finely chopped
4 skinned (but bone in) chicken breasts, wing bone cleaned
sea salt and freshly ground black pepper
110g/4oz flour
2 eggs, beaten
225g/8oz soft white breadcrumbs
1tbsp rapeseed oil
325g/12oz picked French beans
1 tbsp white wine vinegar
1 tsp Dijon mustard
3 tbsp extra virgin olive oil
2 shallots, cut into rings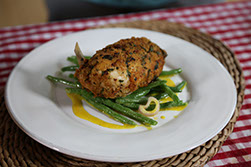 How to Create the Dish
1. Put 150g/5oz of the softened butter, 1 tbsp of the parsley and garlic into a bowl and mix together. Spoon onto a sheet or cling film, then roll up into a sausage and freeze for 1 hour until solid.
2. Preheat the oven to 180C/350F/gas mark 4.
3. Slice the chicken breast in half width-ways so that it opens up like a book then place a couple of pieces of the frozen butter on top. Fold the fillet back over the butter to enclose it totally.
4. Put the flour, beaten eggs into separate bowls, put the breadcrumbs and remaining parsley into another bowl.
5. Dip the filled chicken breasts into the flour and then the egg making sure that the breasts are totally coated, then dip these into the breadcrumb mix and coat well.
6. Put these onto a clean plate and tap gently to make sure the crumbs are sticking.
7. Heat the oil in an ovenproof frying pan then add the last 25g/1oz of butter and put the chicken breast in, presentation side down first and cook for a couple of minutes until a light golden colour.
8. Turn the chicken over and place in the oven for about 8-10 minutes, depending on size, basting frequently with the butter and oil mixture.
9. Meanwhile, heat a pan of salted water until boiling, add the beans and simmer for 3-4 minutes until just cooked then drain.
10. Whisk the white wine vinegar, mustard and olive oil together in a bowl and season with salt and black pepper, then add the shallot rings and drained green beans.
11. Toss to coat then pile onto the plate, put the chicken on top and slice open in the centre to let the butter run out.