Shopping List
Serves 4-6
110g/4oz butter
4 slices back bacon, cut into strips
12 halved new potatoes, boiled in skins
4 roast chicken legs
2 boiled eggs, chopped
Worcestershire sauce
8 x 15-20cm/6-8" pancakes
40g/1 ½ oz flour
275ml/½ pt milk
275ml/½ pt double cream
2 egg yolks
110g/4oz grated cheddar cheese
2tbsp freshly grated parmesan
8 stems asparagus
1tbsp oil
1 tbsp chives, finely chopped
Salt & pepper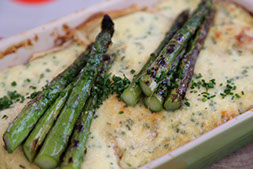 How to Create the Dish
1. Preheat the oven to 200C/400F/gas mark 6.
2. Heat a frying pan until hot, add half the butter and the bacon and fry until golden brown.
3. Crush the cooked potatoes with the back of a fork and add to the bacon, stirring to combine.
4. Strip meat from the chicken legs and add to hash, frying until golden brown.
5. Add the boiled eggs and season with Worcestershire sauce, salt and black pepper.
6. Spoon the mixture onto the half of a pancake then roll up like cannelloni. Repeat with the remaining mixture and pancakes.
7. Meanwhile, melt the remaining butter in pan, add the flour and cook until light golden brown.
8. Heat the milk and cream in a saucepan then stir into the roux and cook until thick enough to coat the back of a spoon, stirring all the time.
9. Pass through a fine sieve into a bowl, then stir in the egg yolks and cheese, stirring until the mixture is smooth.
10. Spoon a third of the sauce into an ovenproof dish, then lay the filled pancakes on top and pour the rest of sauce over the top to cover.
11. Sprinkle with the parmesan cheese and put in the oven for 10-20 minutes, to heat through until golden brown and bubbling.
12. Meanwhile, bring a pan of salted water to the boil, add the asparagus and cook for 2-3 minutes until just tender then drain and return to the pan.
13. Add the oil and chives, season well and toss to coat.
14. Lay on pancakes and serve.